How to Relax and Enjoy
Soft Cover
120 pgs.

$15.00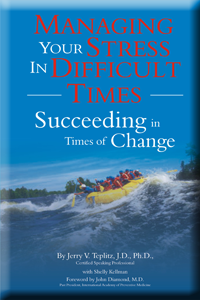 Managing Your Stress
In Difficult Times - Succeeding in Times of Change
By Dr. Jerry V. Teplitz with Shelly Kellerman
"Jerry Teplitz is doing important work. He is introducing people to natural, uncomplicated approaches to health maintenance which are extremely valuable in the framework of wholistic health." - John Diamond, M.D., Author "Your Body Doesn't Lie"
The proof is in the results and that is just what this book gives you – results.
Compact and easy-to-read, this "body manual" offers effective, quick treatments to stay healthy. And, when you experience flare-ups, whether they are headaches, lower back pain or other difficulties, this book is full of self-help techniques that bring relief in minutes if not seconds.
There is practical information on breathing, dramatically effective techniques for relieving all kinds of headaches, eye strain, pain, sore throats, stiff neck and shoulders as well as full back treatments. Other information includes relaxation and meditation techniques, suggestions on foods that heal, a tasty and relaxing herbal tea formula and strengthening your body and health through "body talk" and behavioral kinesiology.
The only way this book doesn't work for you is if you don't read it!
---
"I'm the kind of person who always looks for the shortest, simplest way to anything. The exercises in this book are designed to give you the greatest benefits with the least amount of effort or change in your routine."
Jerry Teplitz
Managing Your Stress -
How to Relax and Enjoy
Soft Cover
120 pgs..
$15.00



Jerry has earned the CSP designation, and brings a proven track record of experience and expertise to your meeting.
CSP - Find Out More...