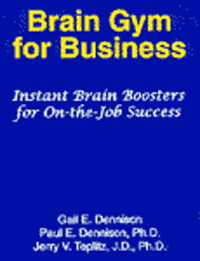 By Jerry V. Teplitz J.D., Ph.D.,
Dr. Paul E. Dennison, Ph.D.,
and Gail Dennison
Brain Gym for Business
By Jerry V. Teplitz J.D., Ph.D.,
Dr. Paul E. Dennison, Ph.D.,
and Gail Dennison
Instant Brain Boosters
for On-the-Job Success
This book should be in every office in America. It offers a series of simple exercises and activities called Brain Gym® designed to minimize stress in the work environment.
These techniques enable you to coordinate brain function with movement skill, allowing you to do a better job, with more ease and enjoyment.
Brain Gym® for Business is easy to use. Just look for your job description in the Job Listings of the Table of Contents. Turn to that page, and under each job description, there is a list of the actual tasks you might be expected to perform, followed by specific Brain Gym activities that you can do.
Each Brain Gym activity will take only 30 seconds to one minute to do. By spending four or five minutes on your "Menu", you will feel more ready, willing, and able to "go to work".
There is also a section called the Job Index. This is used when your job position is not listed so you can find the tasks you want to improve upon. For example, there are listings for manager, sales people, administrative assistants, writers, editors and technical jobs just to name a few.
With this book, you will start to realize the positive benefits in minutes.


Jerry has earned the CSP designation, and brings a proven track record of experience and expertise to your meeting.
CSP - Find Out More...